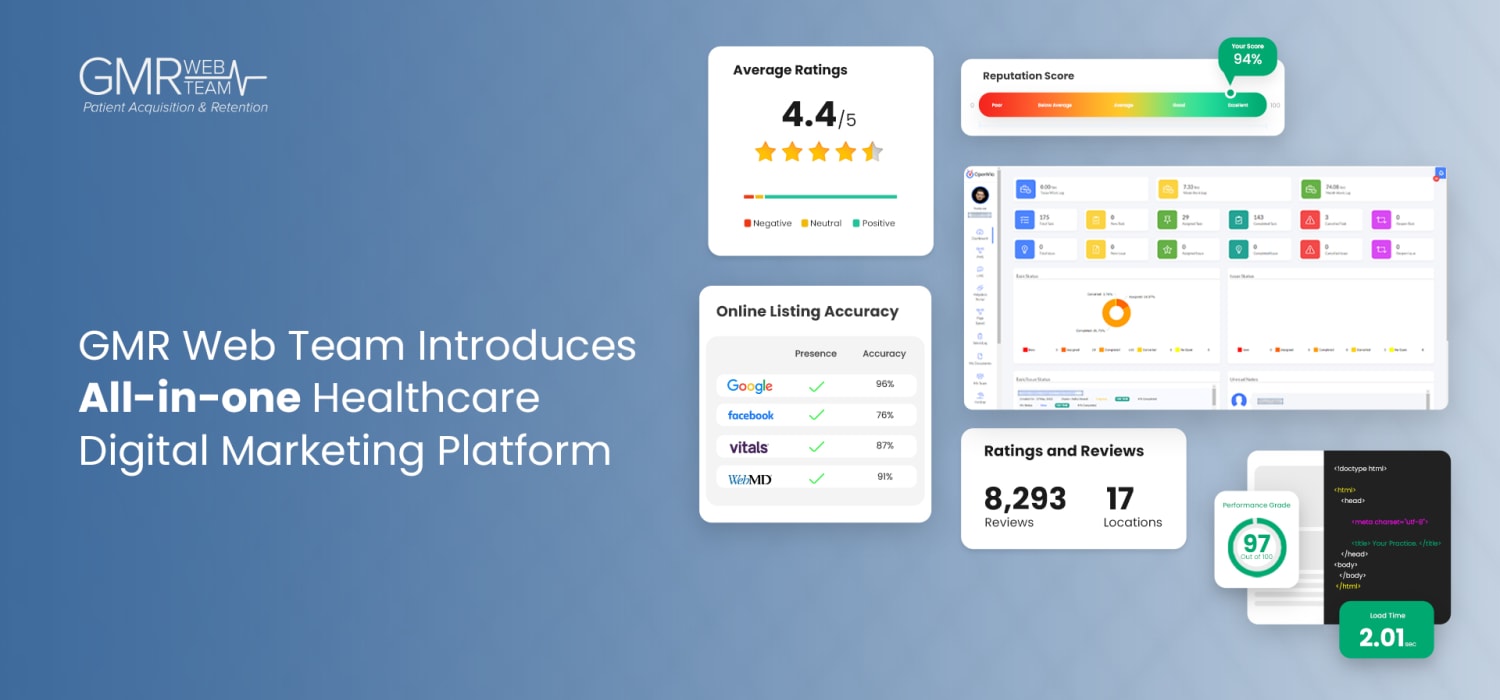 TUSTIN, Calif. —
Leading healthcare digital marketing agency GMR Web Team introduces its proprietary all-in-one digital marketing platform with capabilities that include website design, search engine optimization, blogs, reputation management, referral marketing, and more. This new all-in-one platform is designed to help medical practices improve their online reputation, measure and enhance patient satisfaction, build a robust online presence, and improve practice efficiency through customized digital solutions. This upgrade brings multiple benefits for both GMR Web Team and its clients. The data-driven digital healthcare marketing services will increase efficiency and greater reach for GMR Web Team and ensure enhanced ROI and steady patient acquisition and retention for the healthcare providers. GMR Web Team's healthcare digital marketing platform includes:
Website Builder- This feature lets you build and own a professionally designed, practice-specific website with a user-friendly interface.
OpenVio- With an in-built help desk and Project Management System, you can plan, allocate resources, track progress, etc., all in one place.
Online Reputation Management- GMR Web Team's proprietary reputation management software helps your practice proactively manage reviews and address negative sentiments that could affect your online reputation.
Patient Satisfaction and Sentiment Analysis- Know how your patients feel about any aspect of your practice and study their sentiments through intuitive charts and reports.
Patient Service Recovery- Get notified of unsatisfied patients and address their concerns on time, so they remain with your practice, helping you increase your loyal patient base.
Automated Marketing Features – The platform includes low-cost automated marketing capabilities like referral soliciting, e-cards, social media sharing of good reviews, and more. These features help maximize patient acquisition.
Practice Enhancement Capability – Reduce no-shows through automated appointment reminders and confirmation, built-in website-based patient intake form to reduce wait time, patient satisfaction history available before appointments, and more.
"With 81% of prospective patients consulting online reviews during their healthcare provider selection process, every thriving medical practice needs a robust online presence to get found and a stellar online reputation to get selected for their services. The practice needs in-house processes to constantly assess patient satisfaction and identify areas for improvements to ensure an above-average patient retention rate. I am proud of my development and marketing team for fulfilling my vision of an all-in-one digital marketing platform to maximize clients' ROI and empower the company to offer more benefits at a lower cost through improved efficiencies. The platform addresses online patient acquisition needs and practice improvement features; designed to help maximize its clients' returns on investment," said Ajay Prasad, President & CEO of GMR Web Team.
###
About
GMR Web Team is an industry-leading healthcare marketing agency that uses its technologically advanced digital marketing platform to help patient-centric healthcare providers grow and increase their market share. Its products and services are focused on enhancing the patient acquisition and retention rate of healthcare practices by focusing on the three pillars of a thriving practice philosophy of robust online presence, stellar online reputation, and ongoing patient satisfaction improvement. Headquartered in Tustin, CA, GMR Web Team helps healthcare practices, doctors, urgent care centers, and dentists throughout the United States.