December 06, 2021
Press Contacts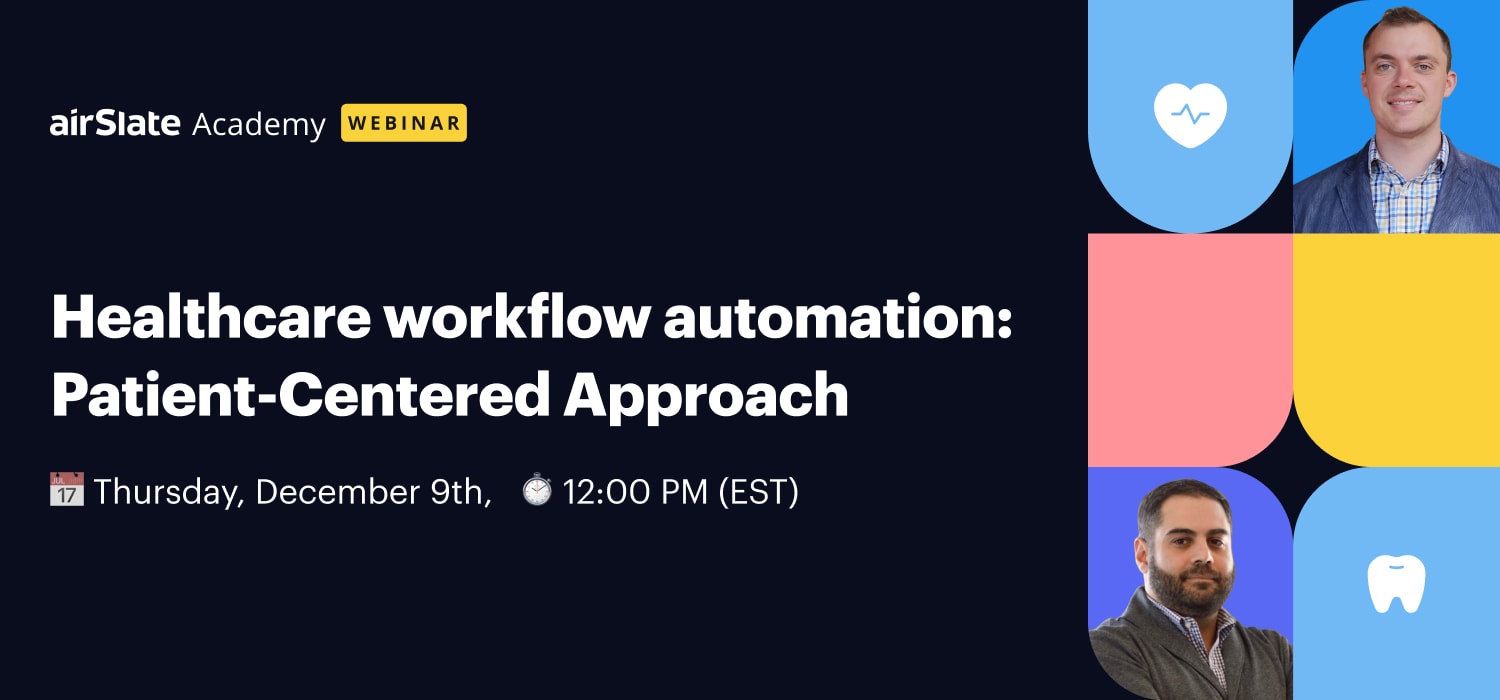 BROOKLINE, Mass. —
The airSlate Academy, an online education hub for digital transformation that offers free courses and certification programs in no-code workflow automation for non-technical professionals, announces its free webinar dedicated to "Healthcare workflow automation."
The webinar will take place on December 9, at 12:00 PM (EST) with two airSlate automation experts as speakers: Colin Tauber, Customer Solutions Director, and Christian Parkourana, Senior Solutions Architect.
This webinar will focus on the key benefits of workflow automation for medical organizations, healthcare workers, and patients. The speakers will provide the audience with comprehensive information, including practical use cases on how to streamline their healthcare workflows by eliminating paperwork and automating manual tasks to reduce hassle and dedicate more time to patients.
As an airSlate customer, T2 Biosystems (an emerging leader in the field of in-vitro diagnostics) managed to solve their key workflow challenges without having to implement multiple solutions.
"The flexibility of airSlate allowed us to design a workflow that works for us. The automation built into airSlate helped us remove many manual steps in our old process." Anthony Matero, Operations at T2 Biosystems
The webinar's agenda covers:
Healthcare workflow automation: what it is
How to assess the workflow automation needs of your medical organization
How to maintain regulatory compliance and data security when automating healthcare workflows
Automated medical workflows in action — Live Demo
Q&A session
Learning takeaways:
Understanding the benefits of HIPAA-compliant workflow automation for medical services
Tips on evaluating the workflow automation needs of your medical organization
Live guidelines on configuring most typical healthcare workflows automated with airSlate
###
About
airSlate is a global SaaS technology company that serves tens of millions of innovators worldwide with its electronic signature, document management, and no-code workflow automation solutions. The company's portfolio of award-winning products, signNow, pdfFiller, airSlate, and US Legal Forms empowers teams to create, innovate, and automate to digitally transform their organizations to run faster and easier.
The airSlate Academy offers free online training and certification programs for those looking to learn the ins and outs of no-code workflow automation. The in-demand skills you acquire at the airSlate Academy will help you advance your career, get a new job, and apply automation to improve operations at any organization.