March 08, 2022
Press Contacts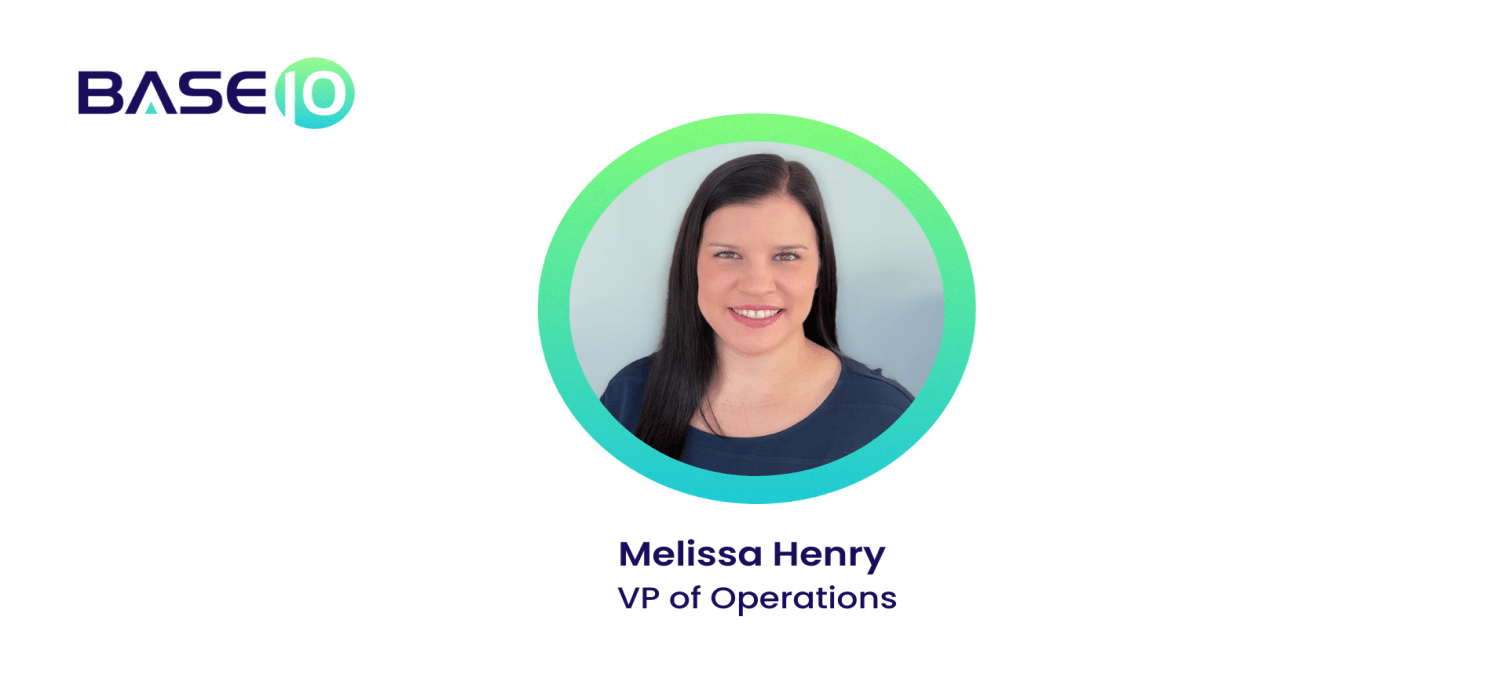 CHICAGO —
BASE10 Genetics, a healthcare software technology company, is proud to announce the promotion of Melissa Henry, to serve as Vice President of Operations.
At BASE10 Genetics, we know that women are powerful forces behind every great company, especially ours. It is an honor to celebrate the Melissa and her hard work on International Women's Day.
Melissa joined BASE10 Genetics in August of 2020 to create and lead the Client Success and Account Management team. She was able to build a highly skilled team remotely in the height of the pandemic. Her team was able to provide outstanding service and support to our Long-Term Care clients, an industry hit extremely hard by COVID-19. As a former Nursing Home Administrator, her vast expertise of the needs of our clients has helped to shape the products we offer as well as the training for our internal teams.
Over the past year, she has proven herself to be a highly talented Operations leader and an invaluable resource for BASE10. She is currently responsible for leading the logistics, Client Success, and sales teams. In her new role as Vice President of Operations, Melissa will continue to strengthen the foundation that BASE10 is built upon by focusing on process improvement initiatives and team development. Initially, the emphasis will be on enhancing project management and training strategies to prepare the teams for the exciting product launches BASE10 has planned for 2022!
She is also looking forward to adding more talented people to the team who have skills in leading projects, operations support, and most importantly are passionate about our mission of improving healthcare outcomes.
Since the inception of BASE10 Genetics, we have been committed to promoting women into leadership roles, but we recognize there is much work left to be done. The more time and effort spent advocating for women in senior roles, the more this can influence the next generation of young woman leaders to continue persevering in an often male-dominated industry.
Melissa's well-deserved promotion is a testament to her tireless work ethic and continued commitment to not only BASE10 but also the healthcare community at large.
###
About
BASE10 is a healthcare software technology company whose platform creates turnkey disease management programs that can be deployed at scale for nursing home operators, pharmacies, payors, and self-funded employers. In close partnership with various health benefits providers, BASE10 deploys cutting edge genetics-based testing and research to improve health outcomes for their subscriber base while simultaneously delivering them significant health care benefits cost savings.